Si Biggs
Battle for the Falklands - The Battle for Two Sisters - 45 Cdo RM - 11/12 June 1982
Unit/ Formation: 45 Cdo RM
Location: The Falkland Islands
Period/ Conflict: The Falklands War
Year: 1982
Date/s: 11/ 12 June 1982
45 Cdo's yomp from San Carlos Water via Teal Inlet ended to the west of Mount Kent on Friday 4th, and the next week was spent patrolling towards Two Sisters, leading to a number of bloody clashes with the Argentines.
On their second patrol, Lt Fox's Recce Troop reached the end of Two Sisters, and when discovered, fought their way out killing up to thirteen of the enemy without loss. Later, Lt Stewart of X Coy broke out in a similar action, and by around Tuesday 8th, 45 Cdo had reconnoitered the main Argentine positions towards the western end. Then over the next two days, Sgt Wassell and other men of the M & AW Cadre completed the picture by covering the eastern end and the ground between Two Sisters, Mount Harriet and Tumbledown Mountain, including Goat Ridge.
Sadly these successes did not come without loss. Over Thursday night a Y Coy patrol accidentally fired on a supporting mortar group killing four men.
45 Cdo's night attack would also be silent without any preliminary artillery fire. Lt Col Whitehead's plan was for X Coy to leave their start line at 9.00 pm, and having taken the south west peak ('Long Toenail') around two hours later, to set up a fire support base that included 40 Cdo's Milan Troop. Z Coy would then assault the western part of the north east peak ('Summer Days'), and Y Coy the eastern part.
On Friday 11th, 45 Cdo less X Coy left their positions behind Mount Kent and moving around the north side, reached the main start line ('Pub Garden') as planned. Meanwhile X Coy, marching down between Mount's Kent and Challenger and heavily weighed down, especially by the Milans, arrived at the start line over two hours late. After a short rest, they began their move towards 'Long Toenail' at 11.00 pm.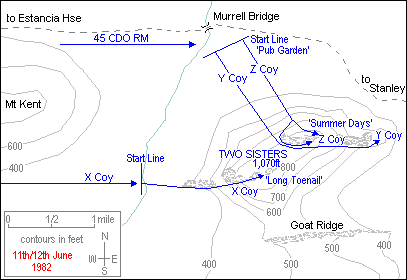 Battle for Two Sisters - X Coy headed across the open ground towards 'Long Toenail' led by 1 Troop, and less than a mile short of the peak, 3 Troop took over the lead, but half way up was stopped by heavy machine gun fire and temporarily pulled back. The enemy positions were hit by Milans and some mortar fire, and now 2 Troop pushed on to the summit under artillery fire. Reaching there, they were forced back by more shellfire, but shortly returned driving off the Argentine machine gunners. Soon after midnight as X Coy continued its fight for 'Long Toenail', Z Coy followed by Y Coy to their right, moved off from 'Pub Garden' on their silent uphill approach. As the Argentines were still distracted by X Coy's attack, the other two companies went to ground until a flare near Z Coy led to the right hand 8 Troop opening fire. The return enemy fire including artillery and mortars was so heavy, killing four men, that Lt Dytor led his men of 8 Troop forward in a charge towards the summit, followed by 7 Troop in a firefight that still left them short of their objective.
On their right, Y Coy swung further right to come up alongside them, managing to knock out some of the machine guns holding up Z Coy. 8 Troop was then able to advance towards the top covered by 7 Troop, and went on to clear the enemy positions on the southern side of their objective, while 7 Troop went on to do the same on the northern side. Two and a half hours after crossing the start line, Z Coy had taken the western part of 'Summer Days'. During this time, 9 Troop stayed back in reserve after suffering casualties from the mortars and artillery. Y Coy now moved between the Two Sisters peaks and below Z Coy's 8 Troop, and headed for the eastern part of the north east summit under heavy fire. Pushing on, and again using anti-armour weapons against enemy positions, all of Two Sisters was in 45 Cdo's hands before dawn. As they reorganized and dug in, heavy Argentine shelling started. Lt Col Whitehead prepared to move ahead towards Tumbledown Mountain, but was stopped by Brigadier Thompson. 45 Cdo had now taken one of the main Argentine defenses for the loss of the three Marines and a Sapper of the Royal Engineers killed by shellfire and mortars.
British Gallantry Awards
Approach to* and Battle for Two Sisters by 45 Cdo RM Lt Col A F Whitehead (DSO) RM Lt C I Dytor (MC) RM, Z Coy Lt C Fox (MC) RM, Recon Troop * Lt D J Stewart (MC) RM, X Coy * Cpl J Burdett (DCM) RM, Z Coy Cpl A R Bishop (MM) RM Cpl D Hunt (MM) RM, Z Coy Mne G W Marshall (MM) RM * Cpl H Siddall (MM) RM, Y Coy
Bmdr E M Holt (MM) RA, FOO Party, 29 Cdo Regt RA Sgt J D Wassel (MM) RM, M&AW Cadre * (citation includes other patrols)
Check out the pins here: RM A Geo History